In January 2020, over two years ago, a life changing virus began spreading across the world, and humanity found itself in the midst of a deadly global pandemic.
In March 2021 during the beginning of the National COVID-19 Vaccination Program rollout I took up a volunteering role, along with my husband Baljit, with The Nishkam Healthcare Trust (NHT) in support of this national effort.
During the first few weeks, the centre was open 12 hours a day, 7 days a week, and manned by over 40 volunteers per day. During its busiest periods over 800 patients a day walked through the doors. To date almost 40,000 vaccinations have been delivered to the public
and over 250 volunteers have been involved. The volunteer contribution towards this great medical & civic effort throughout the pandemic has been truly remarkable. Volunteers from all backgrounds, including clinical and non-clinical, dedicated their time and energy to this worthwhile cause. Over 79 vaccinators have been involved, including 16 Doctors, 9 nurses, 4 dentists and 22 pharmacists. To meet the demand, 25 non-clinical volunteers were trained to become vaccinators.
In 2021, the Centre was recognised as the only fully volunteer-led vaccination centre in the UK, with Dr Emily Lawson, National Director of the Vaccine Deployment Program, stating 'It is clear to see that you and all the team at the Nishkam Vaccination Site have truly gone above and beyond for your local community and are making a real difference to many people… Please thank all of your colleagues who are volunteering…. What you have setup and achieved is fantastic…'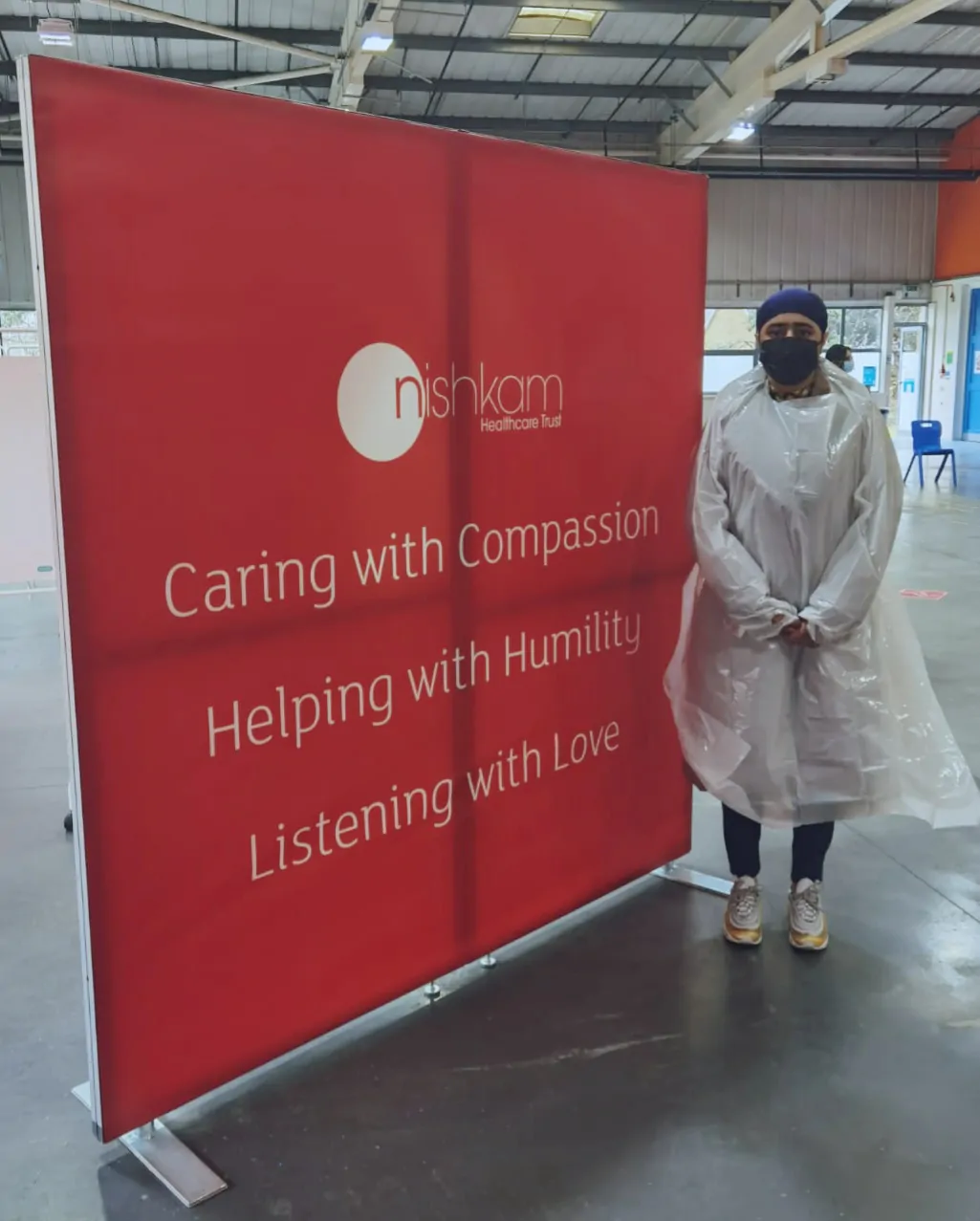 The Vaccination Centre is situated in a part of Birmingham with the lowest uptake of COVID-19 vaccine, and yet has managed to attract patients from a wide spectrum of ethnicities but especially BAME backgrounds. These are the very same communities that have been worse affected by the global pandemic and described as 'hard to reach'. By working collaboratively in good will, the volunteers have managed to make a small but significant impact to try and redress the health inequalities that have plagued the local communities.
I felt extremely honoured to be asked to get involved in such a program back in March last year where my duties started off with 'meet & greet' patients, stewarding, sanitising, and checking patients in at reception, i really got a feel for these pivotal roles that had such an impact on the professionally led centre.
Only a few months into my regular Sunday shift, I was asked to take on Shift Lead, with it came general responsibility for volunteers, patients, and overall smooth running of the shift at the centre.
Typically, the shift starts at 7.30am, I am met by a cheery security guard who unlocks the centre and gets to work immediately, locating the laptop for printing the patient lists by vaccine for the day, making sure all PC's are up and running, all supplies are fully stocked ready for the clinicians in their stations, greeting the other volunteers and assigning them to their posts and but most importantly – armed with a pen and paper for the coffee run! At 8am the centre is ready to go with the first patient who is eagerly waiting to be let in.
I feel that the skills needed to volunteer – would be to stay upbeat, organised, be able to put people at ease and being able to adapt your style to suit different personalities and situations.
In many ways the skills are similar to those in my consulting job – organised, teamwork, good communication and empathy for the fact that you don't ever know someone's back story, how they're feeling about having the vaccine or what might have happened in their family as a result of Covid. It could make quite a difference to how they approach coming in for a vaccine and might trigger all sorts of emotions. In my role I have come across nervous people, excited people, quiet people – all sorts, for me it's been able to read people so that they can approach them accordingly and another thing which I felt that always helped was a smile. I feel totally humbled by the people I meet as they are so thankful.
Me and my team of volunteers are faced with anything from 200-450 appointments booked in for the day and that's not including any walk-ins – so at times the team are able to catch up with each other… I call them my friends now, who are also now regulars on the shift, and there are times when there isn't a moment to come up for air – but we wouldn't have it any other way.
Quite soon after I was put forward to train as a vaccinator, after completing online training and nervously practising on satsumas my trainer pulled me into one of the stations during a quiet period and told me to administer the next vaccine, my very first one on an actual patient, the feeling was very surreal and all the time was thinking and scared about the discomfort I was going to cause the patient – I have now administered a fair few vaccinations and all my patients leave smiling, I have photographic proof of this and common feedback received from patients is that they didn't feel a thing.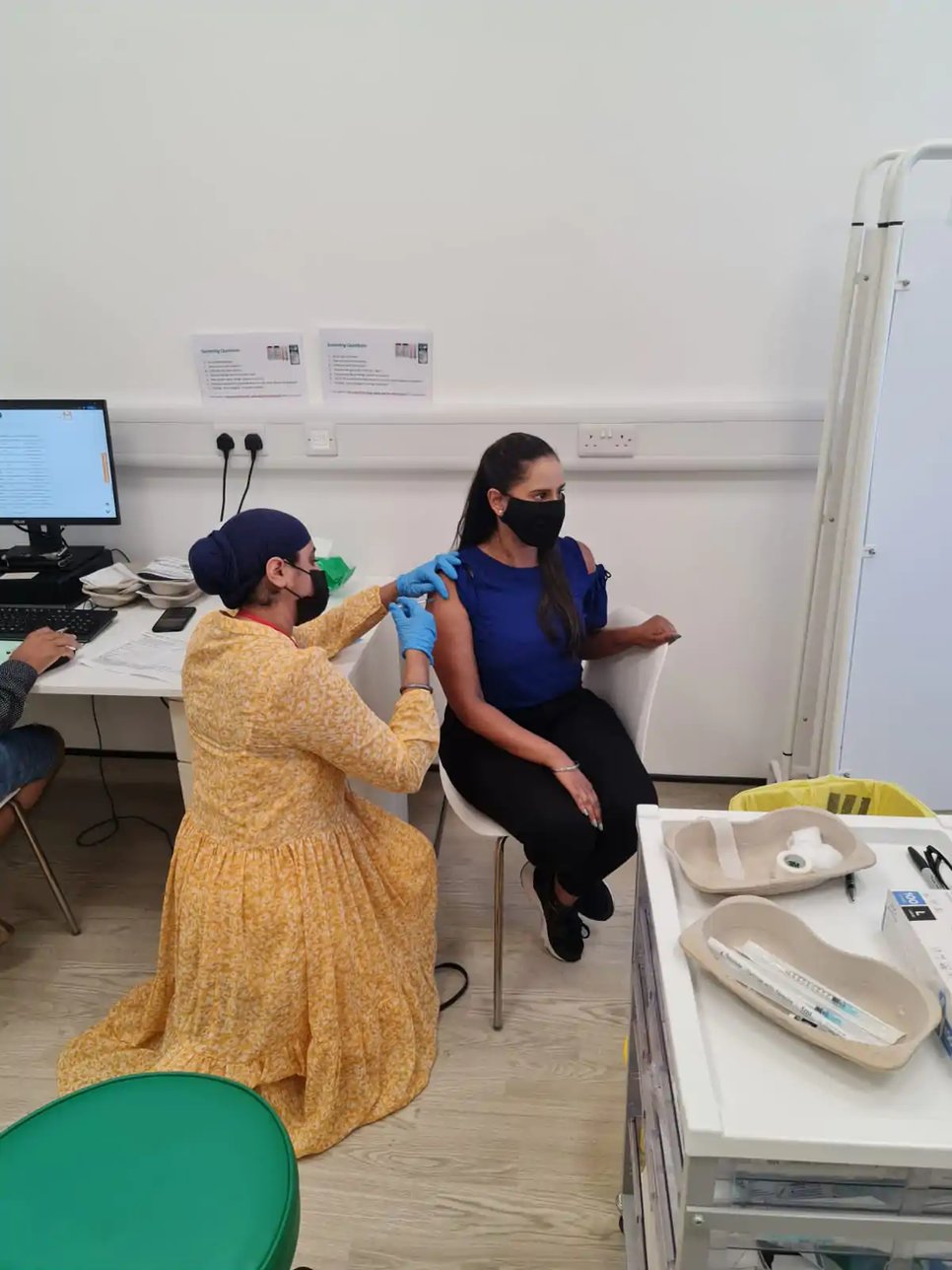 I am extremely thankful to the NHT, never ever in my wildest dreams did I ever think I would be doing something like vaccinating!
All the volunteers have one focus, to do whatever it takes to get people in one door and out the other, friendly but efficiently and always supporting a positive patient journey – and most importantly they are saving lives.
Promoting faith-based values and ethos, the health centre has an aura of positivity about it. When you read about 700,000 vaccinations delivered in one day, Places like this will have played their part.
The entire team continue to go above and beyond to ensure the vaccine is accessible to all, whilst providing a truly excellent service with the patient experience at the heart of the operation.
This, in return has given me a huge amount of purpose and enjoyment especially given the last couple of years through this pandemic, there is something about being part of the COVID-19 effort that gave me that extra boost of motivation!
At this historic time, we all have a part to play in helping the nation move back towards some kind of 'normal'.
I am immensely proud to be working for Peru Consulting who has fully supported this from day one, in fact Peru have given me the time to take up an extra shift mid-week which I have humbly accepted.
(The Nishkam Healthcare Trust (NHT), based in Handsworth, Birmingham, aims to positively transform lives and empower people through faith-based values and ethos. The Trust provides a single-facility, multidisciplinary community healthcare centre, which focuses equally on patient experience (values-based care) and the delivery of high-quality care (clinical excellence).)